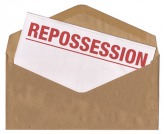 *** Please call Gary to get the latest list of what we have in stock now (609)-644-4499 or email us Reposun2@aol.com. We will also check the recovery sheets to see what is coming in. If we dont have it now, we can get it for you. We have an nationwide recovery search network to find exactly what you need from Salon Equipment, timers, furniture and fixtures. We can put together a complete salon or laundromat package for you that will save you a fortune over the cost of new!
T-Max Salon Manager PRO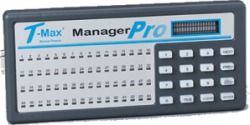 We have a few of these Tmax managers in stock now. This unit can control up to 64 Beds and Booths. You can save 50% or more off new.
Call Gary (609)-644-4499
---
TMAX Manager
This Professional unit can control up to 20 tanning beds and booths. We have TWO in stock now. Like new at 50% less
---
T-max 3-A and 3A with speaker systems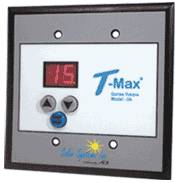 This unit can be used alone or with a manager to keep your employees from stealing from you. These units sell for $129 + new each. We have several of them for only $49 each
---
BUCK BOOSTERS of all sizes!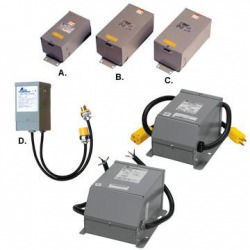 Tanning Bed Buck Boosters. We have .50 KVA, .75 KVA, 1.0 KVA and all the way up to 3 KVA plus we have control cut off boxes. We can save you hundreds of dollars.
---
HEARTLAND HP 54 Super VHR 200 watt 2 Meter Booth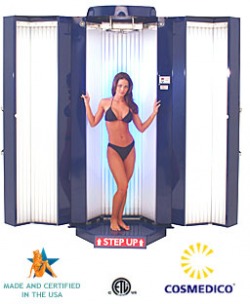 This is a level 6 Super booth with 14,000 watts of power. The salon was charging $25 a visit for only 8 minutes. This is a true bronzing upgrade booth. Dont miss this deal. It was $18,995 new.

MAKE OFFERS NOW. This booth is ready to ship out today!
---
Several Stand Up Booths Including the S2 Sundome 548V and Heartland HP-54 Super VHR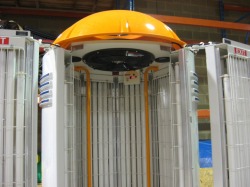 Dont wait to make offers. These booths will sell QUICK at these low prices. They are only 10-12% of new and still look like new. Our inventory changes quickly. call Gary (609)-644-4499 before it is too late!
---
Lots of Beds from Level 1 to Level 6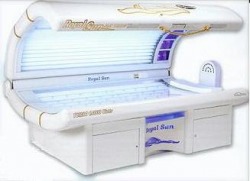 If you are opening up a new salon, call us today. We can help you and save you lots of money. We can put a complete salon package together for the cost of 1 or 2 new beds. These are commercial units that are in great shape. Only you will know they are slightly used. Save money and open your salon with no DEBT. In this economy, you need to get the best deal. Call RepSun (609)-644-4499
---
Montego Bay Wolff VIPER Super VHR Bed with Spaghetti face tanners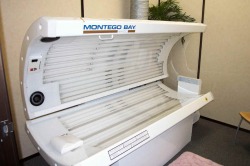 We have at least two of these in stock now.
Call us for Details (609)-644-4499
---
High Pressure Beds .... We repo them too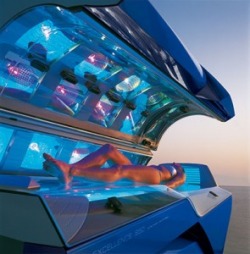 These beds and booths reall sell fast. As soon as they hit the repo sheets, offers come in. Call us to get on the list or tell us what you are looking for. This Ergoline High Pressure bed was $29,995 new and just sold for $6,750. What a savings! Dont wait call Gary today (609)-644-4499
---
HIGH PRESSURE BOOTHS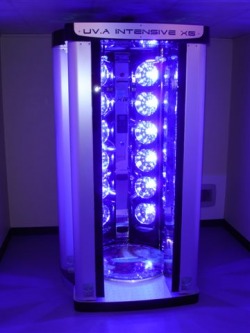 Dont forget the HIGH PRESSURE BOOTHS. We get in several makes and models every month. Salons charge up to $25 a visit for booths like this one. This one was $24,500 new and sold for only $5,500. DONT WAIT
---
UV FREE Spray Tan Machines too!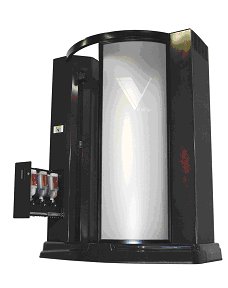 We also repo and recover UV Free machines like this VersaSpa ( Versa Spa ) . This one was $24,995 new and it sold for $10,975. All UV Free machines are selling fast. The busy season is here. If you dont have a UV FREE option, your compeditor will. Call Gary (609)-644-4499
---
HT Instant Tan MYMYST UV FREE Spray Tan Machine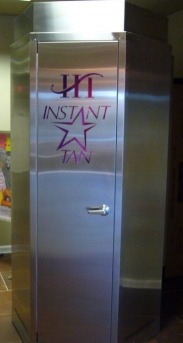 We have an entire Hollywood Tans salon scheduled for recovery soon. It has 12 Tanning Booths from 42 to 60 bulbs. There is a My Myst machine plus counters and displays. Contact us for a full salon package.
---
Tanning Bed Parts for all types of beds and booths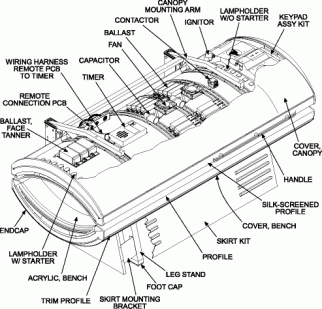 We have been recovering and repossessing used tanning beds and booths for almost 20 years. Over the years we have accumulated many tanning bed parts. We have 5,000 sq. ft. off all kinds of parts. We have thousands of parts you will NEVER find anywhere else.

Call Gary (609)-644-4499 or email us
RepoSun2@aol.com
and tell us what you are looking for. Call us for endcaps, ballast, face tanners, capacitors, fans, timers, ignitors, lamp holders, sockets, starters, shocks and more!
---