Shipping Information :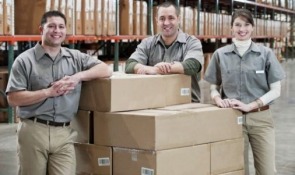 We want to make your shipping experiance as easy and inexpensive as possible. We have no handling fees so you only pay the actual shipping charges directly to the shipper. You can pay them COD or with your credit card. You will get our bulk discount too. You can use one of our shippers or any that you find. We will work with yoo
---
Discount shipping.
We set up discounts direct to you.
You can use any shipping company you want. If you want to use one of ours just call them all to get the best price. Search the internet for your best price and pay them directly. On our end we will secure it to a pallet, shrink wrap and take detailed dated pictures 100% FREE. We load it for free too. If you want it fully crated like a coffin the labor is free. You only pay for materials. When you get your quote tell them the zip code is 08244. The unit is typically 4x4x8 and weighs around 900 lbs. Let the shipping company know it is going from business to business. Tell them at the pickup location there is a loading dock and that we will load it so there is no need for a lift gate or extra driver on our end. For your protection, DO NOT USE Roadway/Yellow Trucking. Due to poor claims records, we do not allow them on our property. Below is a list of trusted brokers and companies that will give you our discount but again.... feel free to use any company you like.

1) IMPORTANAT: Please use any company you like. We do not get any kick backs. We pass the deals on to you! We will ship on any company you hire FREE OF CHARGE. We will load it so there is no need for a lift gate. Call around and ask all companies. Get your BEST PRICES. You would be shocked at the differences in prices. Ask for deals and "DEAD LOADS". This is when a company has a load going to the NJ area and is coming back empty. They will ship your unit cheap if you are not in a rush. ALSO, go online and use sites that allow shippers to bid on your shipment. The average pallet is 4x4x8 and weighs arounf 900 lbs. The pickup zip code is always 08234 Somers Point NJ at our loading dock.

2) Call Mark Fasbinder at www.Freightquote.com. We set up an account so you
can get a good discount. You can call him at 1-(800)-323-5441 extension 1374. Tell
him that Gary from RepoSun told you to call.
3) R&L carriers. Just call 1-800-535-1983 and our discount code for the customers is
repo06. You can pay them directly and you should get 30% off or more on regular
rates. (our local rep's name is BIL)L.

4) Next try Mike Thompson mwthompson@fry-wagner.com / phone # 800-899-4035
x256 / cell phone 314-471-5038 United Van Lines. Tell him REPOSUN told you to call
5) Freight center 800 716 1608 EXTENSION 1013. PLEASE make sure you get Art
Liebowitz. He is very familiar with us
5) Try a company called Simple Ship: SimpleShip.com Freight Made Simple at
1-(888)-902-2888
6) American Freight Company 727-450-7800 They give great deals on single beds too
sometimes using the same companies as other freight sources.
7) Freight and Shipping, Inc logistics agents at 877-618-6058.
8) Freight & Shipping Inc. 1-877-618-6058 ---> Shipping Quotes
9) U Ship says it can save up to 80% . You can also list a shipment with them and the
shippers bid on your load : www.uship.com
10) Freight Rater says they can save up to 95% ----> Freight Shipping and Freight
Quotes Freight Quote Line: 1-800-878-1980
11) CONWAY Freight . Contact your local Con-way Freight Service Center -click here
Telephone: 800-755-2728

Let us know if you need more! We want to help you. We can hold the units for you a week or so to help you get your best deal as long as it is paid for.
---
90 Day Internal Parts Warranty!
Every unit goes through our 40 point inspection process once it is recovered. If there are any problems we will tell you about them. In most cases we offer a 90 day no questions asked internal parts warranty. We test all units at the salons when we recover them. All units are certified working when they leave our warehouse. You are always welcome to come see the unit running and even in most cases, tan in the unit before you buy at our warehouse. Our warranty covers the ballast, contactors, bulb sockets and capacitors. Simply return the part that is bad. We will test it and repair it or send you a working part. Bulbs and plexiglass is not covered along with cosmetic parts. Ask Gary if your equipment is covered under this warranty.
---